Different ways to add Floral to your Wedding Invitation
This entry was posted on August 23, 2019 by Blooms Only.
Gone are the times, when weddings were once planned without much thought into the theme.  In this day and age, weddings are meticulously planned taking into consideration even the minute things. Weddings, without the bias of destination, grandeur or the budget are planned keeping a theme in mind. Once the preliminary task of deciding the theme is perfected, all the other arrangements are done accordingly.
If Floral Wedding theme is on your mind, here are some awesome Floral Wedding Invitation Ideas that you can opt for your wedding invitations. No matter you have a traditional cultural wedding or destination summer wedding, floral theme can be incorporated.  By choosing right kind of floral and colour scheme you can perfectly sync your invitation with your wedding theme.
1. With a Touch of Tradition
If your wedding is all about traditions and cultures, you can reflect them in your wedding invitations using traditional floral decor in mind. Flowers are an integral part of wedding decor and more than often the mandap is decorated with flowers and leaves. An invitation like this one which includes florals and portrays the culture, is one of best option for traditional wedding.
2. Phoenician Floral Wedding Invitation
Phoenicians art is best known for work in decorative items, carvings. Phoenician floral art is popularly seen in column motifs. These motifs are beautifully presented on the cards and they give invitations a classic look. The outlined floral edges blend well against the background theme of the card and make the floral elements stand out.
3. Watercolour Effect Floral Invitations
Viewing flowers in full bloom in natural setting is always a delight. Beautiful watercolor painted flowers take you to those beautiful gardens you wanted to explore. Water-color effect has been incorporated in quite a number of invitations whether e-invites or paper invites. They give invitations a subtle yet elegant look that stands out.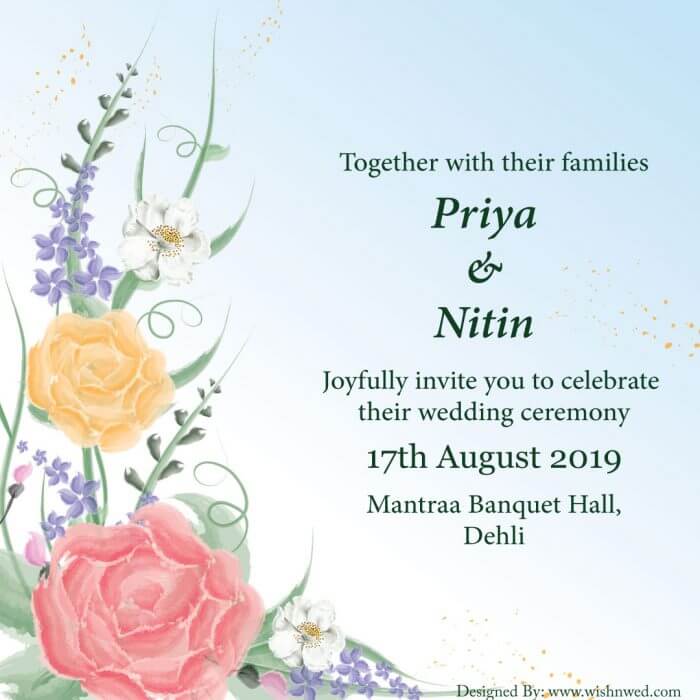 4. Geometrical Patterns
Florals can be used in different geometrical patterns to represent creativity and art.  Different lines, shapes, and patterns can be carefully incorporated with the floral theme to make it look artistically beautiful and in line with the theme of the wedding.
5. Flower Theme Background
If you plan to stick to a particular one flower floral theme and colour, you can use the same onto the invitation. If you plan to use lilies, add only lilies to the invitation and let the text take the highlight.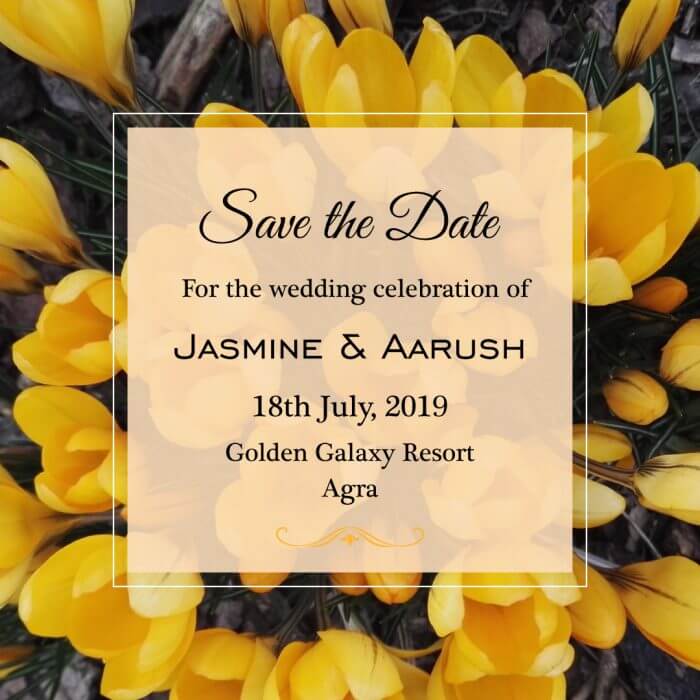 6. Bordered with Giant Flowers
They say less is more, but that's not the case with the flowers, the more the better. Large size flowers can be put across the borders to give an edgy effect. The middle section can be used to write down the invitation details, while florals can be used to highlight the border.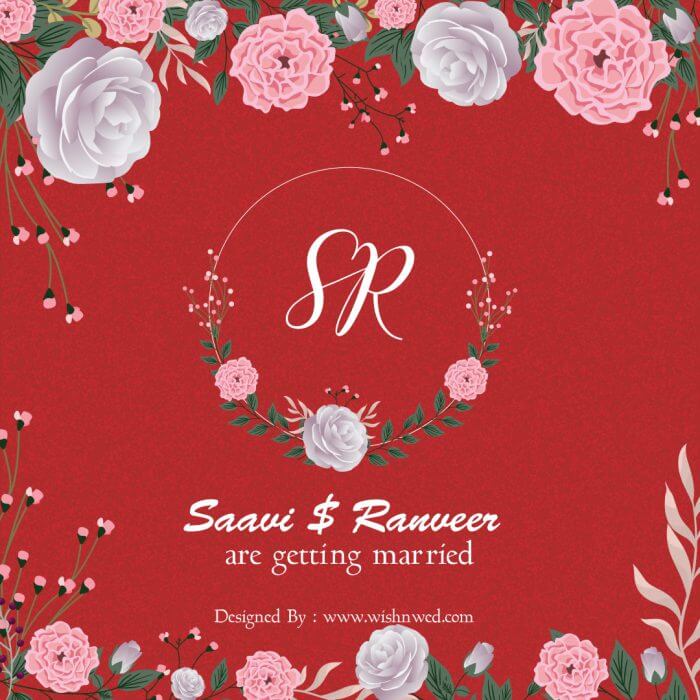 7. Flower Shower
Walking down the aisle and there is a flower shower on you while you walk the feeling is beyond words. The same can be replicated in your wedding invitation, the format though should be a GIF invite or a video invite for the invitation to be live.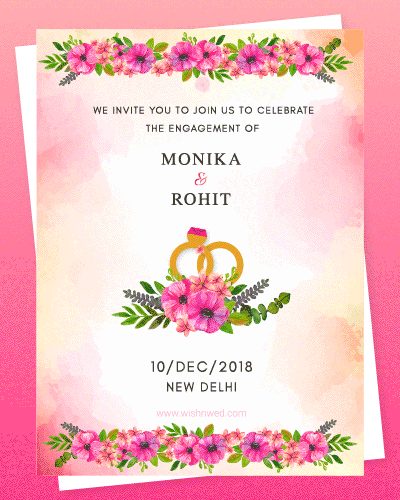 8. Just a pinch of Floral
Perfect for those who love florals, but also want some quirky elements at the same time. An invitation that incorporates more than one element like this one below is the right kind of invitation for you. The point to consider here is that you must include only the elements that complement each other, adding too many elements makes the invitation cluttered.
So that's how you can incorporate your floral wedding theme into your wedding invitation with ease.  Do let us know what's your kind of floral invitation?
Author Bio: Komal Ahuja is the member of Wish N Wed, a platform that provides personal Online Wedding Invitation Maker, reliable wedding vendors & latest wedding trends.