Amazing Wedding Anniversary Gifts By Year
This entry was posted on August 13, 2018 by Blooms Only.
Flowers are fundamental to any celebrations since time immemorial. Be it birthday, engagement, wedding, anniversary, or any other formal and informal event, flowers just make the celebration grand. For couples, flowers are the best wedding gift since they can help to reignite passion and keep the flame of romance burning. What's adorable about flowers is, the option to gift them for  wedding anniversaries by year. Here are the anniversary flowers you can gift by year.
Gift Carnations for 1st Anniversary
Give a traditional touch to your 1st wedding anniversary with carnations. The adorable carnations are the traditional flowers to mark one-year of matrimonial accord. They are perfect for a young couple who is brimming with passionate love. The fringed-petal carnations come in a rainbow of color, and each hue represent a different meaning. Red carnation stands for admiration, and white for pure and innocent love. To say "I'll never forget you," gift pink carnations. For infusing joy and fragrance of carnations in your married life, get online flower delivery in Pune.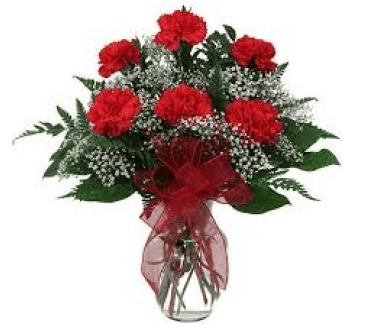 Celebrate 2nd Anniversary with Lily of the Valley
Admiration, affection, love, and humility grow between a couple by the time they reach their second anniversary. Celebrate these traits in life with the beautiful lilies of the valley. These sublime flowers are perfect to show humility and devotion. The delicate, pretty, and fragrant lilies of the valley symbolize purity, which defines the relations shared by married couples. A stunning bouquet of these flowers is perfect to show strong devotion and love for your spouse. Make the evening special by seeking anniversary flowers delivery from an online florist in Pune.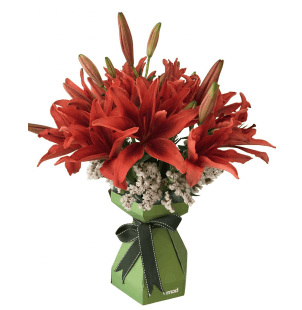 Add sunshine to 3rd Anniversary with Sunflower
When couples reach third anniversary, there is abundance of love, warmth, and loyalty for each other. To recognize these essential traits in your spouse, gift a bouquet of the bright sunflowers.  The bouquet will represent strength, devotion, and love. It will also restrengthen the foundation of marriage. The bright yellow colour of the sunflower petals will reinforce love and passion. These strong and colourful flowers when used in a large bouquet creates stunning anniversary flower arrangements.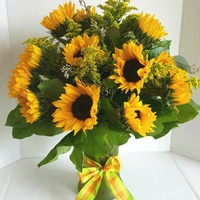 Infuse pride in 4th Anniversary with Hydrangea
The fourth anniversary is the proud moment for couples. By this time, they have shared both good and bad times with each other's support. To appreciate such quality in your spouse, gift a bouquet of hydrangeas. These lush, delicate petals that make hydrangea looks like a ball bring abundance of love for couples. They are best when you want to express heartfelt praise, gratefulness, and pride.
Celebrate 5th Anniversary with Daisies
The vibrant daisies are the perfect flowers for fifth anniversary. They represent love, hope, fidelity, and strong bond shared between couples. The shape and appearance of these delicate, tiny flowers stand symbolic to the growing maturity between maturity. A large bouquet of fresh, bright daisies will represent innocence and purity.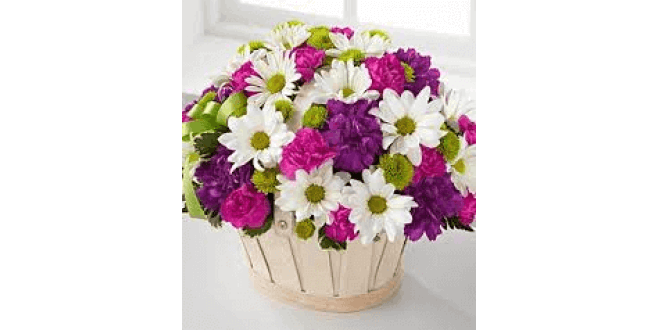 Wish happy anniversary with Daffodils on 10th anniversary
A decade of marriage life is a special event for couples. To mark this milestone in marriage relationship, a bouquet of beautiful daffodils is best to say 'Happy anniversary.' A bunch of these beautiful flowers will be a sweet reminiscent of all the memories shared these many years. A gift of yellow daffodil symbolizes love and chivalry.
Flare up passion and romance with Rose on 15th Anniversary
Reinforce love on your fifteen anniversary with roses. The beautiful roses are the eternal symbol of passion and romance. Show your spouse that you are still long for romance by gifting a bouquet red roses. It's a tradition of gifting a bouquet of 21 roses to express strong devotion.
Add lucky charm to 20th Anniversary with Aster
Two decades of marriage is a feat that calls for special celebration. This is the time when there is abundance of wisdom, patience, and comfort between couples. To celebrate these traits in marriage relationship, gift a bouquet of asters. These elegant flowers symbolize wisdom, patience, and wealth.
Celebrate 25th Anniversary in style with Irises
A quarter century or silver jubilee in marriage is a remarkable event in any couple's life. To celebrate this special achievement, a bouquet of irises is the right choice. Irises are symbol of hope, wisdom, faith, and promise. Gifting these pretty flowers will mean you are ready to share more years with your spouse.
Gift Lily on the magical 30th Anniversary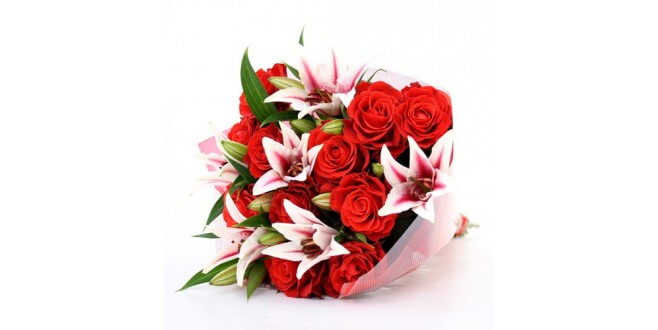 Though life has been changed when your reach 30th anniversary, don't let your commitment dwindle. Show you are still devoted to your spouse by gifting a bouquet of lilies. Feel proud of achieving this magical status in your married life with irises. The star-shaped and fragrant lilies are a symbol of devotion and pride.
Add brightness to 40th Anniversary with Gladiolas
The luminous and charming gladiolas makes a perfect gift for 40th anniversary due to their grace, charm, and vibrancy. Their beauty and sword-shaped appearance show the recipients that their grace and charm still pierce the heart.
Commemorate 50th Anniversary with Yellow Roses and Violets
Reaching golden anniversary in married life is a milestone that only a few lucky achieve. For such a long and prosperous marriage, it makes sense to celebrate the 50th anniversary with not just one but two flowers – yellow roses and violets. The yellow and purple colours go perfectly with each other just like you and your spouse. Combining them makes the flower arrangement more beautiful. The combination of these flowers will stand for love, trust, and humility.
If you want to gift your spouse or the couple anniversary flowers by year, contact Blooms Only for  anniversary flowers delivery Pune. Place your order online on their website or over phone and receive same-day delivery across Pune.