Celebrate This Diwali by Gift Giving Tradition to Your Loved Ones - Diwali Gifts
This entry was posted on July 3, 2018 by Blooms Only.
Diwali, the festival of lights is the time when homes, offices, and streets are decorated with diyas and lamps and become a delightful spectacle. It is when friends, relatives, and even far-flung relatives meet and exchange gifts in order to collect memories, they would cherish for long. There is a new-found enthusiasm among people and they just throng to market to buy gifts for their dear ones. Though shopping during Diwali is a joy, it also means spending more time than usual due to the rush in the market. If you don't want to get stuck in the market rush, the safe way to save time is to send Diwali gifts online to Pune.
Sending gifts to friends and family members for Diwali is an age-old tradition. Though people have been exchanging gifts during Diwali period, the advent of online shopping and delivery has added a distinct flavour to the occasion. Now you can shop Diwali flowers combos and pair flowers either with chocolates, cakes, and teddy bear.
Importance of Marigold Flowers During Diwali Festival
Considered the most auspicious occasion in Hindu religion, Diwali is incomplete without flowers, sweets, crackers, and marigold flowers, especially. The flower market brims with these quintessential flowers as people buy them to make garlands for idols and to hang on the door frames in order to welcome Goddess Laxmi. Such is the importance of these flowers during festivals that their demand and price rise than compared to other times of the year. But there are options where you can buy marigold and other Diwali flowers online in cheap and get home delivery service as well. You can even send online Diwali flower combos gifts to Pune.
Choco Bite with Teddy
One of the gifts that people of any age love receiving it is chocolates. The mouth-melting and chocolaty taste of the sweet is made to satisfy any taste buds. And when the recipient of this gift is a female, the combination of chocolates and teddy bear will work as a magic on her heart. You can also choose chocolate brands in Cabdury Daily Milk or the world-famous Ferrero Rocher Chocolate.
Flowers & Chocolates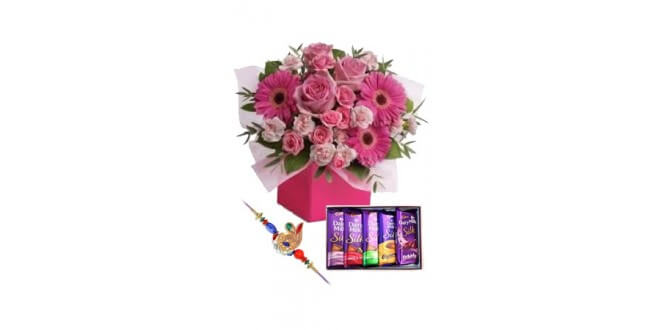 Diwali is a festival when all strive hard to shower lots of love on their dear ones. So whether you are a husband trying to make your wife happy or vice versa, or parents who want to see your children as gleaming as the festival itself, or a lover who is desperate to show the importance of love and festival, then go for "Loads of Love." This flower combo gift contains yellow flowers and a box of Cadbury chocolates. The yellow flowers add warmth to your relationships, and the yummy taste of chocolates represents the senders' sweetness.
Cosmetic Gift Hamper
This is one of the most intriguing and thoughtful cosmetics  gifts  hamper available online. It is ideal for sending to sisters and wives. It combines cosmetic to help the recipient to be in her best looks on Diwali. This hand-made gift hamper also include lily flowers to ensure the recipient is in her best moods for Diwali celebration.
Diwali Combo Gift
When passion, drive, and desire are the message that you want to convey, then this Diwali combo gift is the best of all. It has all the ingredients to add sweetness to your relationships in the form of Ferrero Rocher chocolates. The yummy taste of the chocolate will make the recipient forget any bitterness in relationship, if any. And the pink lilies and red roses will spark love.
These are a few best flower combos gift available with Blooms Only to send best wishes to your friends and family in Pune this Diwali . For more choice, visit https://www.bloomsonly.com/send-diwali-gifts-online-to-pune.