Easy Ways to Make Flower Arrangements for Baby Shower
This entry was posted on July 3, 2018 by Blooms Only.
So you're just a few weeks away from welcoming a baby and want to throw a baby shower but are clueless about it. I will help you to celebrate the most precious moment of your life like you desire. No matter what party-theme and decoration you have on your mind, I can help you have an elegant baby shower with help of attractive centerpiece. With an attractive centerpiece and decoration, you can turn your baby shower into a real bash. Just follow these easy ways to make floral arrangements for baby shower.
Favorite Children's Book Baby Shower Centerpiece
If you wish your baby to become a book lover and a genius, then why not use books for making a centerpiece. Books will also add a dash of intelligence to the centerpiece.Just use a vase and faux flowers and arrange the books in a way as if the table belongs to a genius. Who knows, tomorrow your baby might become one.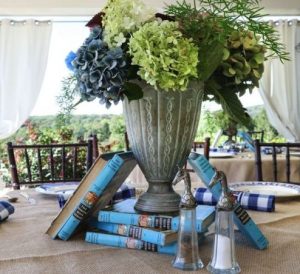 Sweet Candy/Chocolates Baby Shower Centerpiece
The best thing about sweet candy theme centerpiece table is their usage for any occasion, be it birthdays, communion, and baptism. Using candies/chocolates in making baby shower table centerpieces will give the party a carnival look as well. Just arrange different types of delicacies in a vase or a transparent glass. You can also lay down some delicacies around it to give an impression that you will spare nothing to bring sweetness in the baby's life.
Classic Chic Baby Shower Centerpiece
If you want to add your creativity and genuineness for baby shower decoration,then classic chic baby shower centerpiece is where you can use it. As creativity differs from person to person, whatever decorative piece you create can become unique. Just play around with a cardboard box and turn it into a beautiful centerpiece by wrapping it with craft papers, and fixing clip art ribbon, or fresh flower petals with a glue gun. To make the box look like full with gifts, use faux flowers, berries, and pine cones. Give a sparkling finish to the box with a glitter spray.
Bohemian Themed Baby Shower Centerpiece
If you want to create something that is simple and doesn't require much effort, then bohemian themed baby shower centerpiece is perfect. Just use a collection of vases that are in varied sizes, shapes, and colors and decorate them either with fresh or faux flowers. Another idea for a dreamy bohemian baby shower is to use a rectangular wooden box and fill it with petals. You can also place flowers so that they stick out. On the top of the box, use a wooden letters that spells 'BABY.' Give the letters a background of knitted yarn.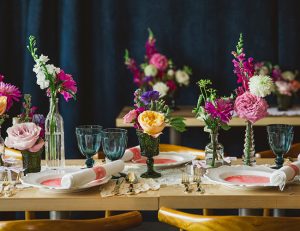 Baby's Breath Baby Shower Centerpiece
Baby's Breath flower has been an obvious choice of many for making table centerpieces for baby shower since long. If you want to imbibe the gracefulness of babies in a centerpiece, you can use these flowers and create a boho style. You can do many amazing things with these flowering plants. You can use one or many glass jars for holding Baby's Breath and place them on a round-shaped log. Place a couple of small glasses with burning candles around that piece.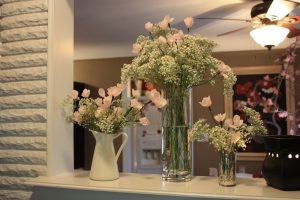 Lime & Pink Flower Baby Shower Centerpiece
If you are looking for simplistic flower arrangement ideas for baby shower, you can make it with just a few lemons, one or two jars, and pink fresh flowers.In case, you are confirmed about delivering a boy, use blue flowers. Fill three-fourth of the jar with half-cut lemons. The cut-portion of the lemon should be visible through the jars. Fill the remaining portion of the jar with flowers and an attractive centerpiece is ready.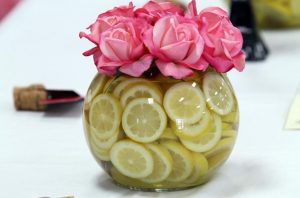 Woodland Baby's Breath Baby Shower Centerpiece
If you want to have a woodland theme with a rustic look, you will need two glass cylinder vases of different sizes, small multi-tone river pebble rocks, a few tweaks, round wooden pieces in 6, 4, 2, & 3 inches, burlap, ivory ribbon, a glue gun, wood letters, and Baby's Breath. First, wrap the vases with burlap using glue gun to ensure it stays put. Then, stick pebble rocks on the burlap. Stick the pebble half-way from down on one glass, and in the middle on the another keeping the upper and lower portion empty. Then wrap the ivory ribbon on one glass and stick letters on it. The letters could be L O V E or B A B Y. Take a small glass and stick tweaks around it in vertical to cover the entire glass from outside so that it can be given a bonfire look. Then make a headstand using the wooden pieces. Now put the Baby's Breath making a symmetrical bouquet in the vases.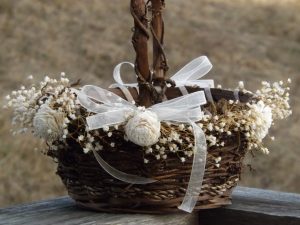 Lavender Flower Arrangements
If gender-neutral baby shower is on your mind, then lavender flowers are the best alternative for a perfect centerpiece. Take a glass jar and cut a few lavender flowers in equal height. Wrap the flowers to the outer of the glass from all sides. Place a burning candle inside the jar and keep it on the top of a wooden piece. You can also arrange two round bottles next to the jar with lavender flowers inside.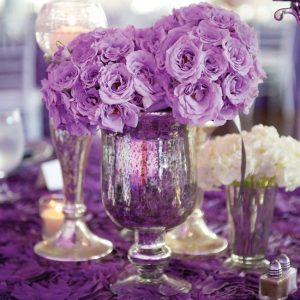 Hydrangea and Baby's Breath
If you want to bring cheerfulness and innocence to your baby shower, then there is no better combination than Hydrangea and Baby's Breath. While these flowers are mostly used in wedding, you can still use them as a reminiscent of your wedding; which is why you are throwing a baby shower. Use a square base pillar holder and place a floral foam at its base. Then cut Hydrangea white flowers at 45 degrees so that the cut stem is sharp and easy to insert them into the floral foam.Have a pattern on your mind and skewer flowers accordingly. Use another bowl and place tropical leaves inside the bowl. Then make a bouquet of Baby's Breath flower and put inside the bowl. Place the bowl next to the base pillar holder for an attractive pair.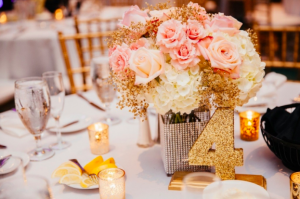 Tea Cup Flowers
Tea cup flowers are another option for making attractive baby shower centerpiece. You will just need a regular, or you can use designer cup and saucer along with floral foam, blooms, flowers of your choice, leaves, and glue gun. First, cut the foam and glue it inside the cup. Just ensure that the foam doesn't stick out, or it's visible. Once you got the platform in the form of foam to build floral design, you can play around with different blooms and flowers by sticking them in the foam.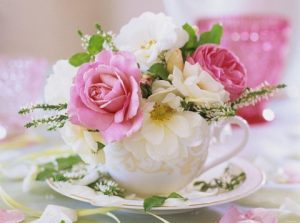 If you want to buy decoration accessories for baby shower, you can contact Blooms Only. This online florist supplies fresh flowers and accessories. Their floral designers are also proficient of making unique and handmade items to your requirements.