Best Flower Gifts to Say I Love you
This entry was posted on February 10, 2022 by Blooms Only.
Love is a beautiful experience that makes life seem blessed. It's rejuvenating, precious, immortal, and glorifying. At the same time, it's hard to get since it's invaluable. If you're lucky to have found one and dreaming of making her or him your life partner, get ready to propose. While love makes every day of life beautiful, you mustn't miss the day that is solely dedicated to love -Valentine's Day. As the day is approaching, we bring you the best flower gifts to say 'I Love You.'
Multi Colour Rose Vase Bouquet
No doubt, love can be expressed in many ways. But when you add a dash of natural colours, fragrances, and lots of emotion in it, nothing can stop you from winning the heart of the special person in your life. That's why, we've crafted this beautiful multi colour rose vase bouquet for you. It contains white, yellow, and pink roses all which represent pure love, friendship, and lots of happiness. Fresh, natural flowers are arranged in a vase with green foliage. Book it today with Blooms Only and get it delivered to your doorstep on Valentine's Day.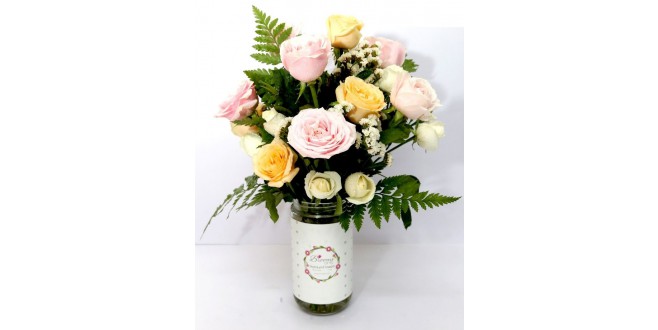 Rose Vase Bouquet – Combo Colour
For the prettiest girl that you've chosen to spend your entire life with, we have arranged this gorgeous rose vase bouquet in combo colour. This bouquet is crafted by mixing red, yellow, and white fresh flowers that will speak your heart out. Gifting this pretty flower vase to the special person in your life will demonstrate pure and passionate love for her with a promise of treating her like a special friend for a lifetime.
So why wait and go scouting for Valentine's Day gift when you can order it online with us and get it delivered at your place or the girl's you want to make your life partner. If you've any special message to be delivered, feel free to let us know and see how gracefully we mold it into words on a beautiful greeting card and compel her to give you an adorable hug.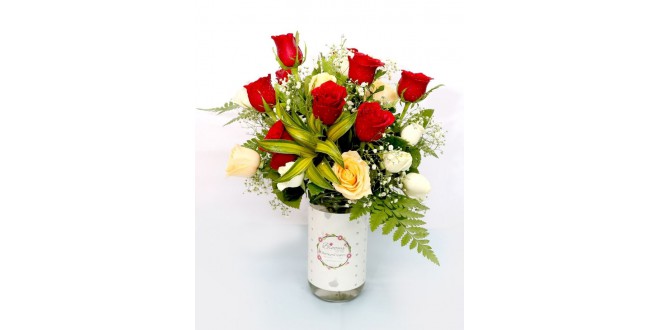 30 Pink Roses Box Bouquet
If you're committed to filling your girlfriend's or wife's life with lots of happiness, but cannot express it in words, give her this glamorous gift of 30 pink roses box bouquet. Seeing so many beautiful roses in universally loved colour will have her in tears and drooling all over you in a way never to part away till the end. Take her out for a candle-light dinner after gifting her.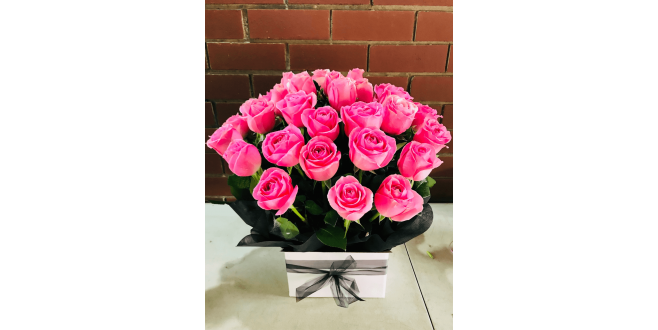 Pink and White Roses, Ferrero Rocher Chocolate Bouquet
Roses and chocolates are the most favorite things of women. No matter which continent they belong to, it is hard for them to control their love for flowers and chocolates. So, stop wondering about what to gift your lover or spouse on the Valentine's Day, and order this pink and white roses, Ferrero Rocher chocolate bouquet with us. The moment she will hold this gift in her hand, she can feel your love for her. Moreover, she will appreciate your choice for the gift and feel lucky to have you in her life.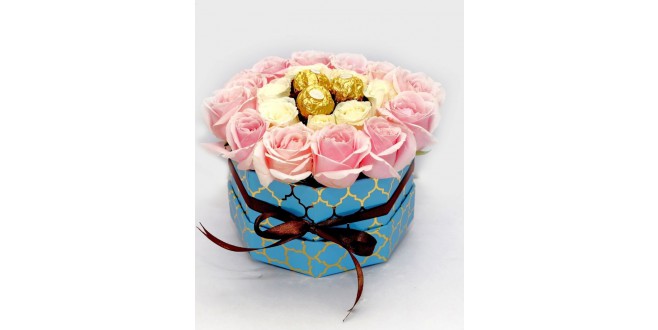 Red Roses Blue Box Bouquet
If great love, admiration, and loyalty are all you have for your girlfriend or wife, then gift her this red roses blue box bouquet on the Valentine's Day. The appealing combination of red colour of the roses and blue colour of the box makes it an eye-pleasing gift. The box is creatively wrapped with a white-coloured ribbon that gives the gift a touch of purity. Since red is the colour of vigour and vitality, this gift will convey your wishes for her to be forever young and healthy.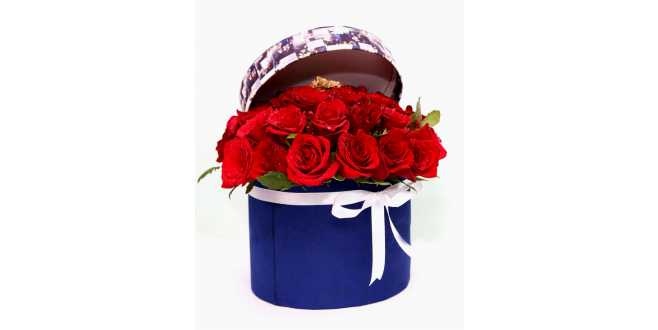 Heart-shaped Flower Bouquet
No matter how deeply you love your significant one with all your heart, it's impossible to take the heart out and show it. However, it's possible to demonstrate your love with this heart-shaped flower bouquet. Presenting this gift, you can literally put your heart in front of her and let her know how much you love her. This lovely gift is crafted for the Valentine's Day keeping in view your intense emotions and to help you express it in an elegant way.
We have several hundreds of such gorgeous flower arrangements for her, him, wife, girlfriend, and couple to gift on the Valentine's Day. The above gifts are our favorite, and we are sure you will love it too. Choose any one and order it with Blooms Only and get it delivered on the special day at your chosen address.