Flower Decoration Tips for Happy New Year 2020
This entry was posted on December 30, 2019 by Blooms Only.
The year 2020 is approaching fast and we are already into the festive mood. Finally, it's time to relax and spend some quality time with our friends and family. After all the hassle and hard work in 2019, now it's the time to raise a toast for togetherness and get started with Happy New Year 2020 celebrations.
Wait, you have not decided on the decoration yet? Don't worry, we have got you covered with top easy to do DIY floral party decors that will definitely become an apple of eyes.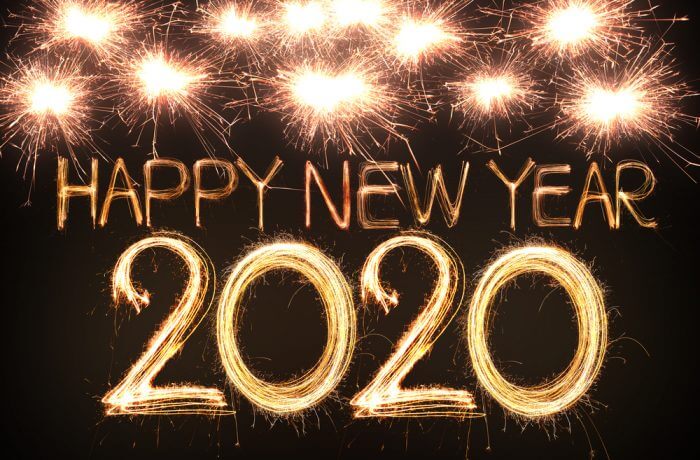 Best flower home decor for New Year Eve:
Welcome your guest with a blissful touch:
Decorate the entryway of your home with beautiful florals and accompany them with scented candles. While stepping inside the house, the guest will feel the warmth and the freshness of florals that will instantly boost their mood even before the party starts.
If you are planning to serve welcome drinks to your friends, add a 'touch of bliss' to it. There are many edible florals available in the market that you can use for decorating the drink. This small gesture of yours will definitely be remembered by all for a long time.
Is your living room looking festive ready?
Let the presence of fresh flowers deck up your living room with its magic. Apart from your appealing Christmas Tree, you need to do some minor tweaks also to make the living room look great. Choose the combination of roses and orchids to glam up your living room. Fresh red roses will greet all with their sweet fragrance and the luxuriant orchids will make sure your friends will have a 'wow feeling' as soon as they notice it.
Centre table flower decor:
When it comes to New Year party home decoration, we can't skimp on the centre table. The classic furnishings of fresh florals nicely decorated in a water-filled glass bowl is a showstopper. Take a big glass bowl, use florals like roses, carnations and tulip petals to deck it up.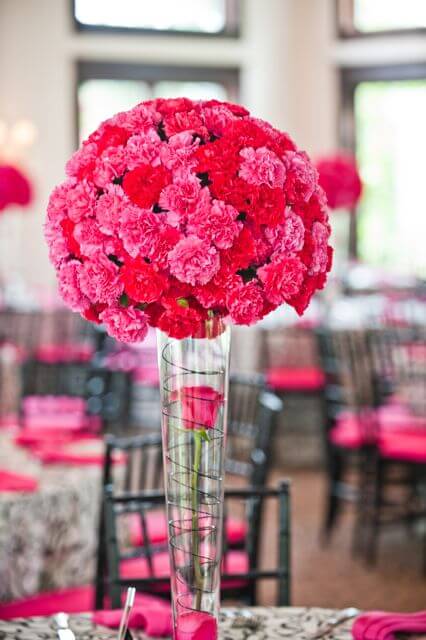 To increase the volume, you can also mix up little artificial florals that will give density to it. This decoration is very easy to do and it won't take much time. In the hurry of party preparation, if you forget to decorate the table, this DIY fits perfectly. As the florals will be in clean water, they will stay fresh for longer.
Make the 'roof' interesting: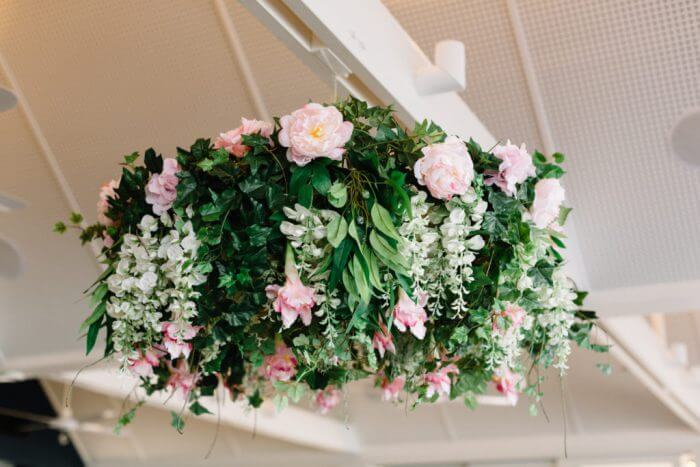 No one pays attention to the roof when it comes to decoration. We may do a number of decorations to make our sofa look good, the centre table looks ravishing, but what about the plain roof? Hang on, no need to do hard work on new year eve. You will find beautiful low hanging floral trails online or at your local market to glam up the roof instantly. All you need to do is just hang them on the roof or tie them using some support and you are good to go. Although it's an 'add on' to your happy new year decor, it's worth to give a try.
Embellish the food corner with the freshness of florals: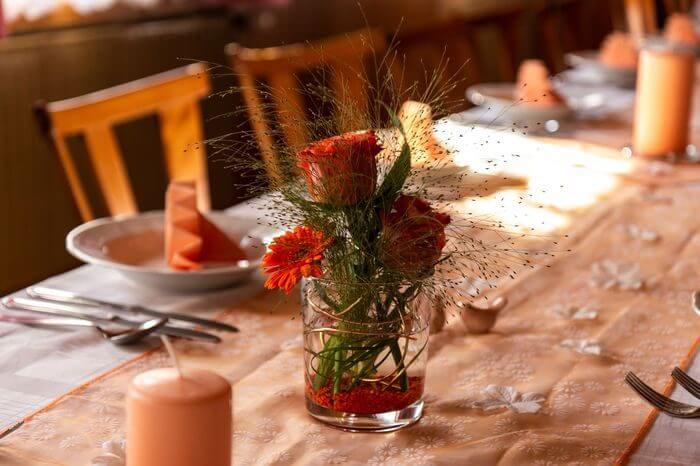 Simple flower decoration can glam up the food corner with vibrant and fragranceful beauty. You can use floral petals to decorate the food table. Or, you can use small floral vases to keep fresh-cut florals. Don't forget to add little water in the vases to keep the flowers fresh for longer. Here also, you can create a combined arrangement of fresh and synthetic florals to make it look more appealing and beautiful.
Add a Pop of colours to your home randomly:
Don't limit yourself to the living room or the drawing rooms. Decorate the other part of your house too. Use small and vibrant flower arrangements in your bedroom, kitchen, the passage of your house to make it look more beautiful.
Try flowers like pear blossom, roses, lily and sunflowers to do the magic of freshness all-around your place. Decorate your kitchen with a nice big flower vase and flaunt some exotic florals in it. Go for nice purple orchids and white lilies to add a dice of freshness to the kitchen.
Don't let the windows be alone:
For your party decor, remove the old curtains and add a refreshing touch to it. Prepare minimalistic and beautiful floral drop chain and decorate the window like a pro. Use florals like carnation of red roses to create thin floral garlands and make your windows too 'party ready'.
Floral Chandelier for happy new year 2020 decoration:
Floral chandelier looks ravishing and attractive. It will complement the overall floral decoration of the living room. You will find a lot of good designs for flower Chandelier from Pinterest and other sites. Just let your florist know in advance when you want them so that they can prepare it for you. They will add more charm to your new year's eve decoration.
Outdoor party decoration:
After talking about so many indoor happy new year floral decoration ideas, it would be unfair to skip the outdoor decor. If you are arranging your gettogether at your garden or terrace, mix some lights with florals. While decorating your open space with beautiful florals, club some beautiful LED series lights with it. This will simply revamp the entire decoration in an instant.
You can also use old glass jars and decorate them with some florals and white colours LED series. When this will lit up, it's going to be the showstopper of your outdoor party decoration. Decorate the food counters with the same pattern of LED series and flowers. Here, you can use artificial florals as they will look good and yo don't have to worry about to look after them.
Greet the ladies with a floral tiara:
Make this New year party extra special for our lovely ladies. Greet them with a beautiful floral tiara. This small thing will definitely make the entire new year bash memorable and full of fragrance. Tiaras are easily available in the local markets or you can also create them at home and surprise the ladies with a refreshing gift.
Theme up your new year decoration:
Take your new year decoration to a whole new level of fun. Decide a theme for your party and do the decoration according to that. You can go for a specific dress code inspired by floral design, or greet your guest with orchid garland or treat them with a nice small bouquet of roses to get the perfect vibes of an opulent floral new year decoration. When you will decide a theme for the floral decoration, it would be more fun for you to deck up your place in a unique way. Let the beautiful decoration based on a theme become the favourite selfie spot for your friends and family.
So, how are you planning decoration to celebrate the new year? Just a pro tip to keep in mind, whatever floral decor you choose, place the flower order in advance. Call your nearest flower decoration services hub and let them know your decor requirements. They will help you out in carrying out the entire deck up in an easier way. Get started with the decor now make it a memorable moment for all.