What Are Some Decorating Themes For Ganesh Festival 2019?
This entry was posted on July 8, 2019 by Blooms Only.
Ganesh Chaturthi festival is very near, and we all are excited to welcome Ganpati Bappa with sheer love and pomp. As per the Hindu calendar, this festival is celebrated in the month of Bhadrapada which usually falls between mid of August and mid of September. The most awaited festival is here, and we just can't keep calm, right?
This year, celebrate the Ganesh festival with some of the most unique and eye-catching decorations to make everyone say "Ganpati Bappa Mourya." In this article, we will tell you some of the best and evergreen Ganpati decoration themes which you can go for without any second opinion. So, what are we waiting for? Let's dive into it.
Best Ganpati Festival Decoration Tips 2019:
Go Natural, Go Floral:
What's better than decorating the entire Ganpati Mandap with lush fresh flowers? The freshness, aroma, and the positive vibes you will get from flowers are just unmatchable. Choose colourful flowers like roses, marigold, orchids, mogra, hydrangea, daisies and many more to choose from.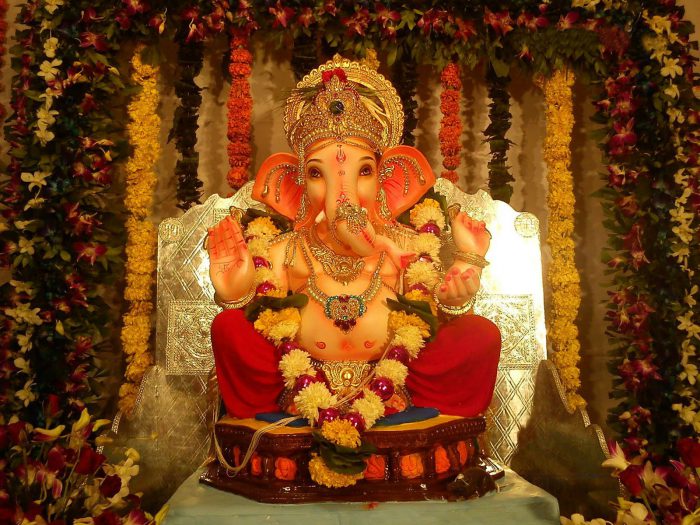 Right from decorating the Pandal to your pooja thali, plan for the fresh flower decoration and get soaked in the vibes of celebration. To take your natural decoration one step ahead, the Prashad should also have a touch of nature, Right? You can prepare the most special sweet "Modak" filled with coconut jaggery and dry fruits.
Drapes decoration is the best:
Drapes not only look vibrant, thanks to numerous colourful options but also makes the entire ceremony decoration more enjoyable. Go for some glittery and shiny vibrant colour sarees, dupattas or fancy curtains. Along with placing the beautiful setup of drapes behind the idols of Lord Ganesh, you can also decorate the ceiling of your place by twisting and making loops of colourful dupattas and sarees.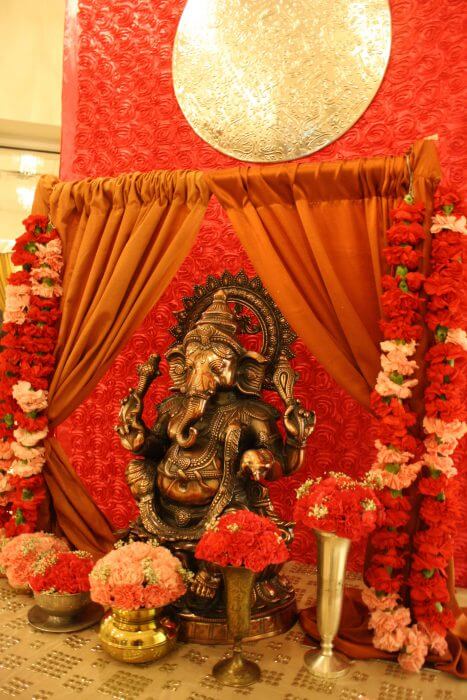 With the drapes, you can also use colourful LED series and rotating Chakra behind the Ganpati Idol. It will complement the entire decoration theme. Not only for pandals, but this decoration is also best for your home.
Attractive Paper Pin Wheels Decor:
If you haven't used these gorgeous looking paper pinwheels yet, this year, include them in this year's theme. If you are looking for something attractive but easy on decoration, nothing can be such handy as this theme. You will easily find them in your local markets or at your nearby stationary shops.
Decorate the background wall of Lord Ganesha with beautiful paper decor. You can go for single vibrant colour like red, blue, yellow or you can pick your favourite 3-4 colours and decorate the mandap by making different colour combinations.
Lord Ganesh rangoli: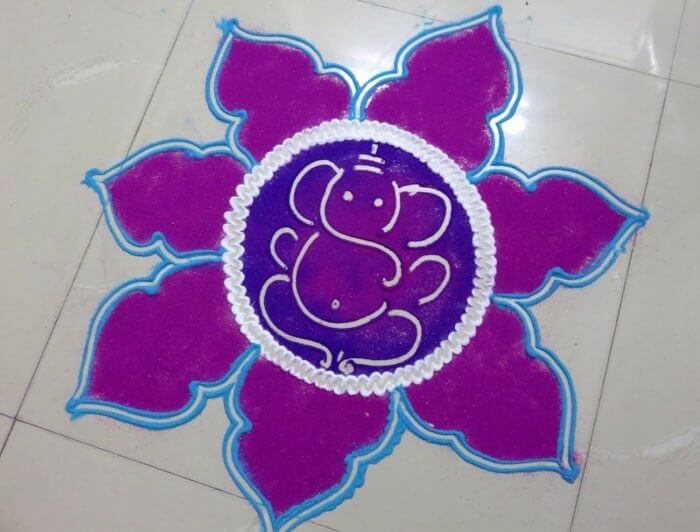 Not even a single festival celebrated in India is completed without rangoli then how could this one? You can also prepare floral rangoli at your home's entrance or in your pooja ghar. This Ganpati flower decoration looks mesmerising and will add more charm to the entire festival. In this celebration of 10 days, you can go for ten different rangolis for each day and surprise everyone with such a beautiful theme.
Lighting Decoration: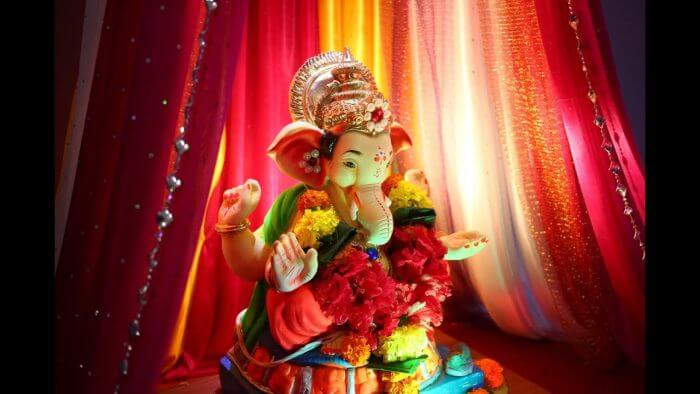 If you are thinking about a lighting decor theme, you have got a lot of options. Decorate the background with colourful LED series, and you can also use the Diyas for front decoration of the mandap. Use the lighting Diyas around the pooja thali. The soothing illumination will definitely take the entire decoration to the next level.
Eco-friendly Green Theme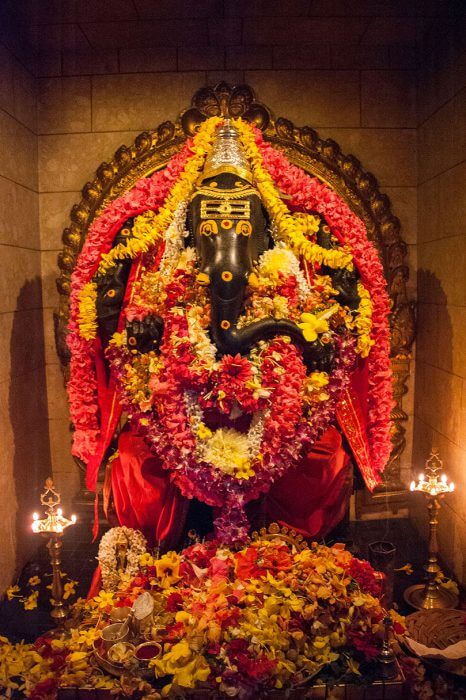 For eco-friendly Ganapati flower decoration, you can go for natural decor using banana leaves, Durva, and some fresh flowers like roses, carnations, and marigold. The best part about this theme is that you can change it as per your wish on a daily basis. It's easy to do and looks amazing.
Balloon Decoration Theme:
Looking for some out of the box theme, what's better than colourful and joyful balloon decoration. You can create a balloon rainbow for background decoration and create big florals looking shapes using them. Not only children but everyone will like such unique decor. For for a single colour or use multiple colours, both will look attractive.
Peacock Feather Theme:
Peacock feathers are so beautiful and are perfect for Ganpati decor. You can decorate the Pandal with some beautiful looking big peacock feather and fresh flowers. This theme has its own charm and will complement your decoration in a mesmerizing way. This theme doesn't require a lot of time in setup, and you don't need to take care of it much.
Honeycomb & Paper Frill Theme:
You can choose from a wide range of available paper frill designs and paper honeycomb patterns to compliment the decor. Along with fresh florals, go for colourful paper decoration, and you can also use beautiful lamps which you can illuminate during the Aarti time. This is one of the best combinations you can have for this year.
Coconut Shell Decor:
This is one of the newest decors you will find in the market. The coconut shell is made up of thermocol, and you can hang it using wires like a dome. Decorate this coconut shell with LED series, and it will look very attractive.
So, which one theme you are choosing for this year's decoration? Go for your favourite theme and compliment it with fresh flowers. If you are reading this article from Pune and looking for best Ganapati flower decorators, you must check out Blooms Only for largest flower decoration services.