How to Select Best Flowers for International Women's Day 2019
This entry was posted on March 8, 2019 by Blooms Only.
International Women's day is an annual celebration of womanhood when we acknowledge some of the inspirational and amazing women in our life. Sending the wonderful women in your life some nice Women's Day special flowers will indeed be a wonderful surprise.
The International Woman's Day happens on March 8th every year. If you wish to show some love and appreciation to the important woman in your life, you can opt for some of the best online flower delivery in Pune.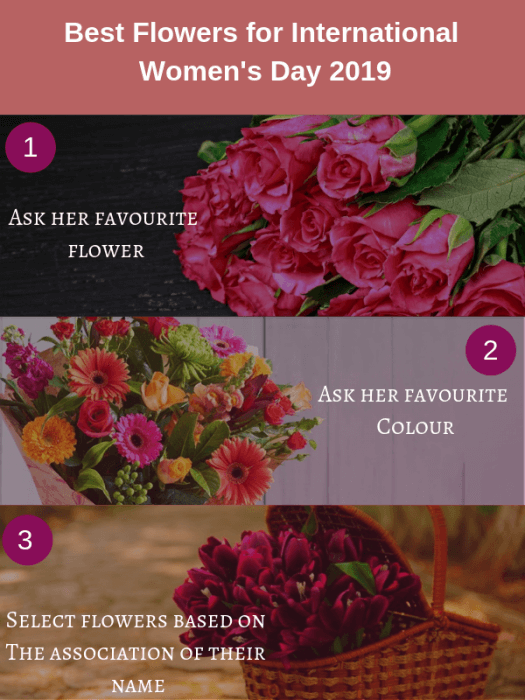 How to select flowers from the online store
Ordering flowers online and delivering them anywhere in the world. Many online florists offer flower delivery in Pune and other parts of the country. Irrespective which part of the world you live in, you can send some beautiful women's day special flowers to your loved ones.
You can select flowers through online portals and have them delivered to your loved one depending upon their favourite colour, their favourite flower, an association of their name with a flower etc.
Based on her favourite flower
Irrespective whether it is your mother, your spouse, a relative or a friend, sending them their favourite flower is a sure shot method of bringing a smile to on your special women's face. Knowing what their favourite flower is can make your work easy and help you choose the best flowers.
Based on their Favourite Colour
Every woman has a colour which calls her favourite. Seeing a bunch of flowers of her favourite colour will surely bring a smile on the face of the wonder woman of your life. Flowers come in different shades and colours. For example, you can choose to send red roses to your lady if her favourite colour is red, or you can select some asters or blue orchids if her favourite colour is blue. Flowers of her favourite colour is the perfect gift for your special woman this International Women's Day. You can directly go online and select a flower delivery and surprise your favourite woman with some beautiful flowers.
Based on the association of their name and a flower
The best way to choose a floral gift for that special lady this woman's day can be selecting a flower which matches the name of the lady. Various female names come from flowers. Rose, Lily, Daisy, Ivy, Jasmine etc. are some of the examples of female names which come from flowers.