How To Use Carnation Flowers To Decorate A Wedding Reception?
This entry was posted on February 20, 2020 by Blooms Only.
When it comes to wedding flower decoration, carnations play their role in a very classy way. These beautiful florals express love, joy, and affection. They are simply versatile and used in various decorations. In Indian weddings, we love to decorate every aspect of the ceremony charmingly. Whether it's our mandap decoration, beautiful reception backdrop, or the wedding party, we love the bling and lush everywhere.
Ask any wedding florist; carnations are the most popular flowers for wedding functions. The reason behind it pretty simple — They look refreshing and available in multiple colour options. Confused about using carnation flowers? we are here to get everything sorted for you.
Take inspirations from these multi-hued carnation flower arrangements and bring out the 'wow' effect on your wedding day: 
Make The Entry Mesmerizing:
The wedding reception entry must be memorable and eye-soothing. Right from the lighting setup to the right arrangement of florals at the entryway, everything matters. A combination of white, pink, and yellow carnations can do wonders at the reception entry.
Take the trio of these colours and decorate the entry area with multi-hued frills and low hanging floral trails. Don't use over flashy lights as they will mask the real beauty of those florals. Keep it minimalistic, comforting, and of course, photogenic.
If the entryway is spacious, go for cute welcoming elephant shape floral arrangement to welcome guests grandly. Ask your planner to decorate the wedding venue with these adorable elephant floral statues.
Lush Carnation Backdrop:
The backdrop of the wedding reception has to look as opulent as the wedding couple. Carnation blossoms are here to get the decor done and dusted beautifully. Choose a romantic colour combination of white and red. Let the red carnation complement the white floral arrangements of the backdrop.
Searching for something special, craft the couple's initials in greek words at the backdrop beautifully surrounded by lush arrangement. This will look unique and attractive.
Thinking to go for a royal theme reception backdrop? Arrangement of red rose, white carnation, and orchids are going to win everyone's heart. A little bit of greenery to accompany reception stage decoration never disappoints. It gives a refreshing touch to the entire arrangement. Use eucalyptus to cover the edges of the backdrop.
Add more Pop to Your 'Hip-Hop' Station: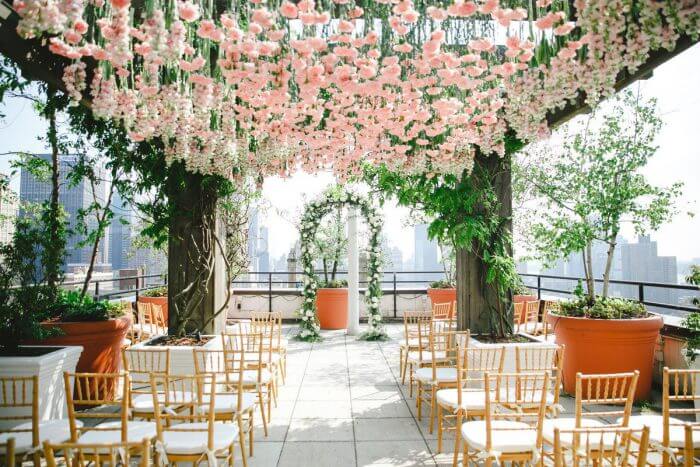 When we make our list for wedding planning, we might not think about revamping the dance floor. It happens quite a times, the whole venue is decked up with eye-pleasing floral decor, but the dance floor looks so alone.
Sprinkle some magic of carnations to add more pop to the most happening place of the wedding reception. Deck up the dance floor with yellow and pink carnation arrangements. You can also mix and match colour combinations and florals. Mix some artificial blossoms with white carnations and cover the entire dance floor with shiny drapes and shiny lights to pump up the dance vibes.
Wedding bouquets at dinner tables: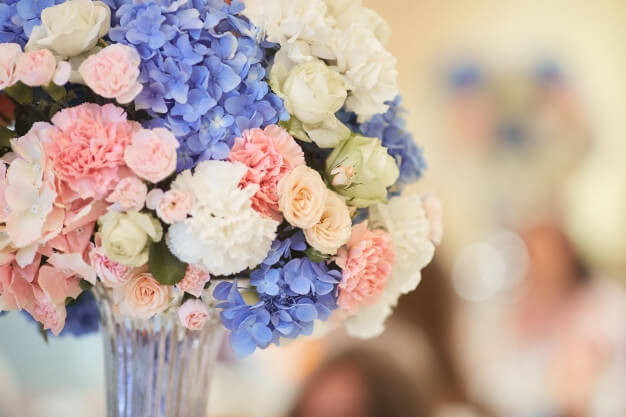 Flower decoration in the dining area of reception deserves your attention. Don't let it fade away in the shine of drapes or colourful lights. Give it a natural and pleasing touch of florals. Nice small bunches of florals are just enough to win everybody's heart.
Ask the wedding decorator to use a small bouquet of carnations to decorate the dining table. And, if the setup is indoor, you can also pair this arrangement with scented candles. This type of decor gives a modern touch of luxuriant decor to the venue. Make your big day's every aspect appealing and heart-stealing.
Instead of decorating the indoor venue with commonly-used centrepieces, go for giant vases and decorate it with a combination of real and synthetic florals. As carnations and roses stay fresh for a longer time, they make a perfect option for indoor decorations.
Low-Hanging Stage Decor: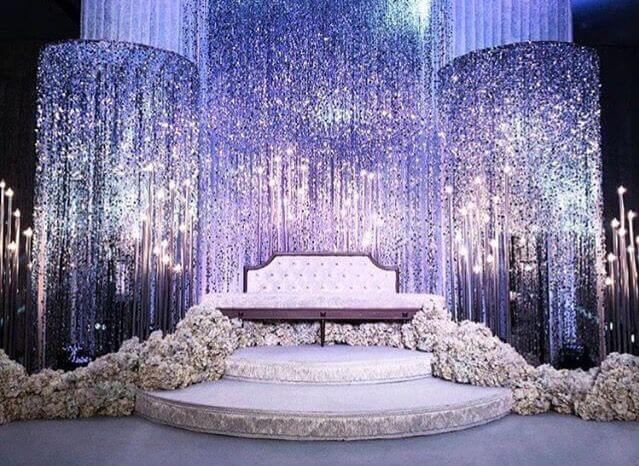 One of the best ways of using wedding flowers to decorate the stage is to use low hanging short floral garlands from the top. It gives a nice dense appearance to the reception stage. Even the stage is compact; this arrangement goes well.
Go for dark colour florals for such arrangements. You will find a wide range of intense shade blossoms, including red carnations, tulips, roses, and orchids. Try combining 2-3 floral options for creating a mesmerising low hanging stage decor.
Carnations are beautiful and can make every wedding reception moment special. Go for any of the above arrangements and add a touch of nature to the venue. You will easily find them in local markets or online available in various attractive colours. Contact your wedding planner and get the reception decor done in style.