Why Blooms Only Is the Best Option To Buy Premium Flowers In Pune
This entry was posted on March 2, 2020 by Blooms Only.
A cosmopolitan city with a perfect blend of technocrats and business professionals, life in Pune is swift and hectic. The demand for quality-enriched services is touching the skies today. The floral industry in Pune is also a part of this bandwagon effect. In Pune, the demand for premium flowers has increased manifolds over the last few years. Blooms Only is one brand that is synonymous with delivering high-quality and premium flowers for every occasion and festival. Let's put Blooms Only under the lens and unbox why it's the best florist in Koregaon park Pune. 
How Does Blooms Only Stands Ahead in the League?
Experience: Yes, you read it right. Blooms Only is not just any other flower delivery company - it's a lot more than that. The entire team works with an objective to empower and promote new flowers and innovative floral arrangements for the customers. Embracing international quality standards and yet adding a personal touch to every order is a trademark of Blooms Only. We also offer stunning floral gift hampers that suits our customer's preferences to the core.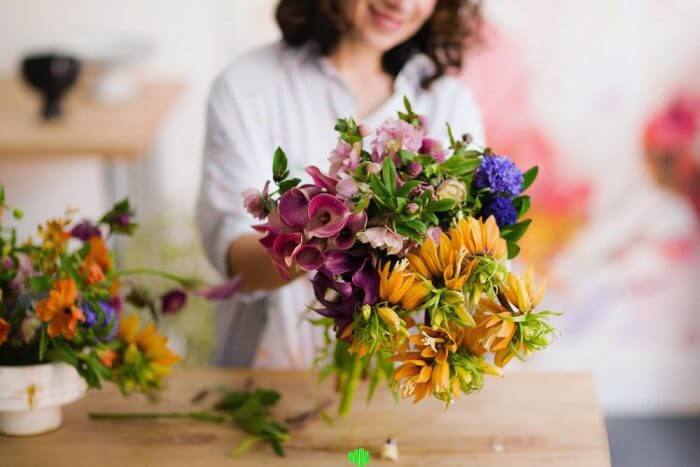 Customization: We understand that every customer is unique and neither our highly-acclaimed services are limited. As the best florist in Koregaon Park Pune, we offer a plethora of customized packages that come as a surprise for our customers. With the biggest network, flower delivery in Pune is absolutely free between 9 am to 6 pm. Be it an advance booking or an instant call - we deliver anywhere and everywhere within Pune. Right from a single rose to corporate flowers, bouquets, and assorted arrangements, you are just a call away from us.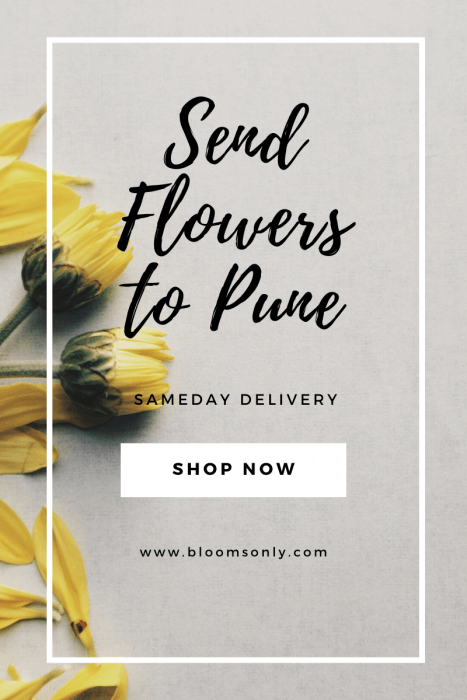 Quality is our Forte: Till date, we have never fallen short on our promises and will never be. Providing 100% authentic and fresh flowers is not just a guarantee, it's our brand value that has never been compromised. With years of acumen and research, today we ensure that our bouquet stays fresh for a minimum of 4 days. Our flower arrangement is done carefully under the supervision of skilled professionals only.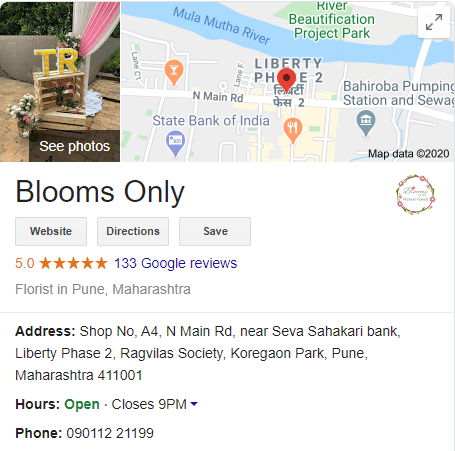 Elite Association: Alongside floral supply to homes, we undertake concierge services within the city limits. The continued alliance with our prestigious clientele across Pune is a result of our dedication and consistency in providing the highest quality of flowers. Over the years, we have been the floral partners for numerous mega-sized corporate events, social functions, and religious festivals across the city.
Sustainable Business Model: Our vision of doing a floral business is quite different from our competitors. Instead of buying flowers from third-party vendors, we get fresh blossoms directly from the organic farm. We happily walk the extra mile and identify the best farmers for each variety of flowers that makes us unique and close to your heart. Although there are various flower shops in Koregaon park, Blooms Only is one brand that stands high in raising the bar of quality standards by aligning with farmers directly. So be it for any event or any particular flower you want, we have it fresh for you.
International Presence: We believe to stay ahead of the changing time, and therefore, we embrace innovation with open hands. Our lead florist is based in Melbourne, Australia, and under his guidance and expertise; we explore new trends and techniques in floristry. This also helps us in offering unique Australian contemporary designs of floral arrangements to our customers. We take pride to be the only florist in Pune to import exotic flowers and accessories through our Wholesale parent company "Prospect flowers". Blooms Only is the only online flower delivery brand in Pune that brings you imported flowers and accessories - right at your doorstep.
 A Flower for every Occasion: Be it Valentine's day, the anniversary of your dearest friend or even a moment of grief and sorrow. Blooms Only have always got the right set of flowers that complement the occasion. If you are out of the city and want to convey your heartfelt emotions to someone special, order online to send romantic flowers to Pune. If you are going to a birthday party, check out our elliptical flower arrangement and grab the best bouquets for the party.
Blooms Only - Your trusted florist in Koregaon Park Pune
If you are searching for an experienced florist in Pune that can fulfill all your requirements with ultimate ease - you have come to the right page. As sustainability is a buzzword in today's competitive market, we are overwhelmed to connect with new customers each day. Give us a call or visit our website to order online and experience the difference today!