Top Five Unique Car Decoration with Flowers to Complement the Newlyweds
This entry was posted on November 15, 2019 by Blooms Only.
Newlyweds couple just love to flaunt their PDA and tell the world how much they love each other. Whether it's their pre-wedding photoshoot, marriage functions, or wedding reception, they want everything like a fairytale. One thing which completes the entire wedding journey is the Car floral decoration.
A beautiful Floral Car Decor could bring so many joyful moments. Decorating the car is just like adding a delicious cherry on top of the cake. If you are searching for the best car decoration ideas for the big day, this blog is for you. Check out a few of the best car decor designs which will perfectly complement the newlyweds.
Top 5 unique car decoration which you can not miss:
Everybody dreamt about a royal wedding, and this car decor could bring that dream into a beautiful reality. Ask your florist to design a vintage style car decor using lush wreaths and multi-colour flowers. This decoration looks timeless and attractive.
Opt for vintage style Car Flower Decoration Services and let the newlyweds experience a heritage moment of their wedding. And if you are renting a heritage car, this decor will just do its magic on it. Choose exotic and vibrant florals for such arrangements, including carnations, orchids, tulips, and chrysanthemum.
And if you have a wedding theme, why not be the car part of it? Ask your florist to get the car to be done and dusted in the same colour florals to compliment the couple.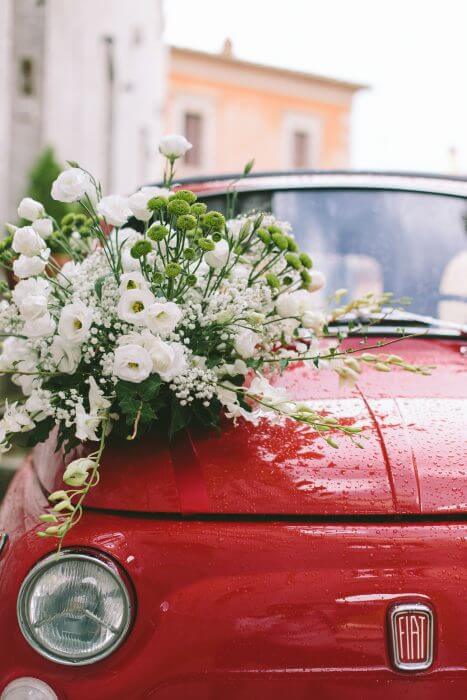 Floral decor with a touch of cuteness:
There are Online floral Car Decoration Services available, which also let you add a personalized decor to car bonnet. You can choose a cute teddy bear couple for the front decor, which looks cute and attractive.
Let the wedding car reflect 'you' in the decor with this unique and adorable teddy and floral decor. Cover the car with shiny tulle, beautiful roses, and wedding couple teddy. What's more? Glam up the car from inside too. Keep small chocolate and teddy hamper inside to make the moment more romantic and memorable.
Wrap it like a "birthday present"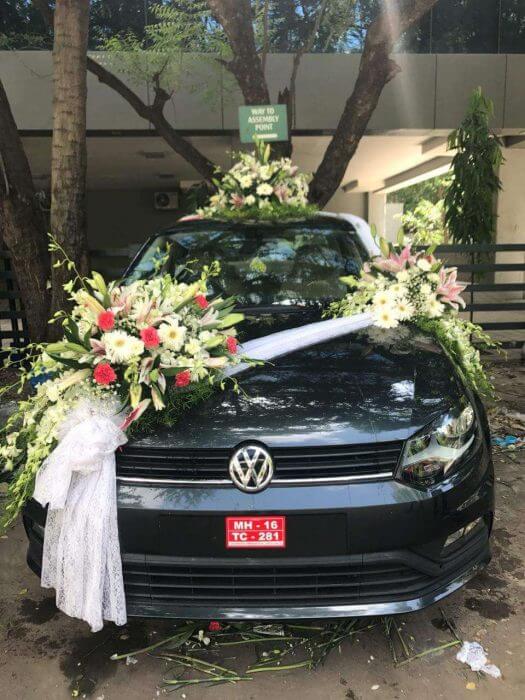 Everybody likes to receive presents, and this is a great inspiration for wedding car decor. Wrap the car in a birthday present style. Use big ribbons, shiny tulles, and a giant bouquet to welcome the couple. The car should feel welcoming and what's better than a heart-shaped 'Just Married' board on the front.
If you are from Pune, you will find a lot of creative Floral Car Decoration Online Pune hubs which can help you in crafting this master decoration, which will surely impress the newlywed couple. Let this unique decoration be a centre of attraction for all.
Floral garlands look flawless: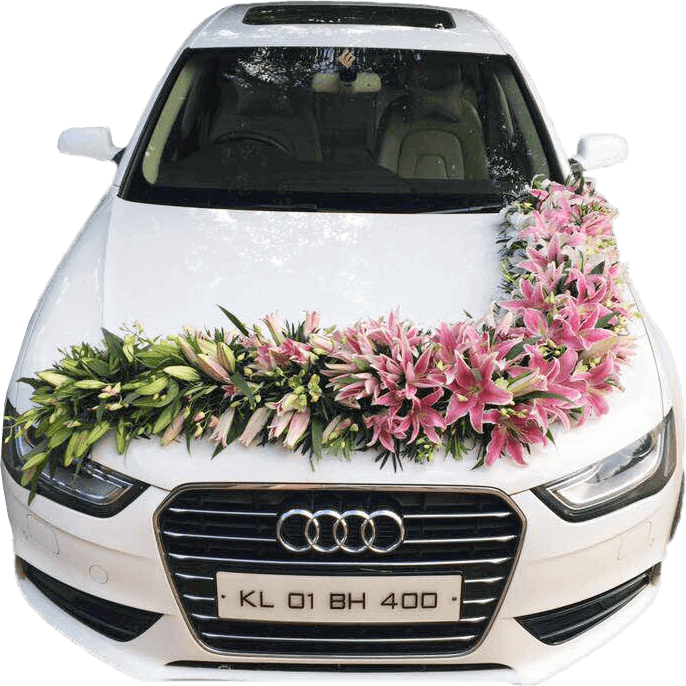 Long floral garlands look pretty and match up with every wedding theme. To make the garland decor unique, pair it up with a white ribbon and create a spiral-type garland to cover the car. This gives an attractive and unique look to the wedding wagon.
Search for "Floral Car Decoration Pune" or any other city and let the florist do this same decor. You can mix and match many colour florals in the garland and let the top of the car crowned by a big beautiful bow-shaped ribbon.
Modern Minimalistic Design:
Compliment a modern couple with a minimalistic modern car decor. A delicate web of florals covering the side and front of the car looks appealing. A combination of white and red colour blossoms makes it more elegant and gives you a modern feel.
Get this elegant arrangement from any popular Online Floral Car Decor and let this be one of the most special moments of the wedding, which will bring loads of joy.
Find the best Car Decor Pune service right from your phone and make every wedding moment full of utter happiness. Make sure to book everything in advance and avoid any last moment hassle. Don't forget to add names and dates on the back of the car and make this day special for everyone. Compliment the newlyweds from any of the above unique car decors.