How Floral Jewellery Can Enhance Your Beauty On The Big Day?
This entry was posted on September 3, 2019 by Blooms Only.
The presence of fresh flower can win anyone's heart. Beautiful floral decoration can take any event simply one notch higher by its positive and fresh vibes. And when it comes the big day of your life, i.e. wedding, these florals can make every moment fragranceful and pleasant.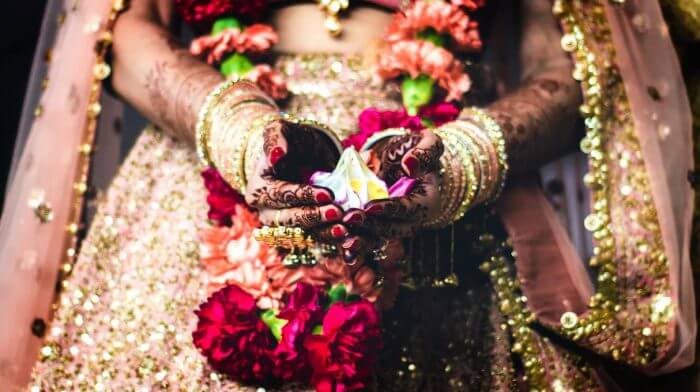 In this article, we will tell you how you can use floral designs in your jewelry and enhance your beauty on the Big Day. Whether it's Sangeet, mehndi function or wedding, we will tell you different styles for every different occasion. It's time to try out something new and natural. Let your beauty naturally enhance by these fresh floret pieces and make you feel like a queen.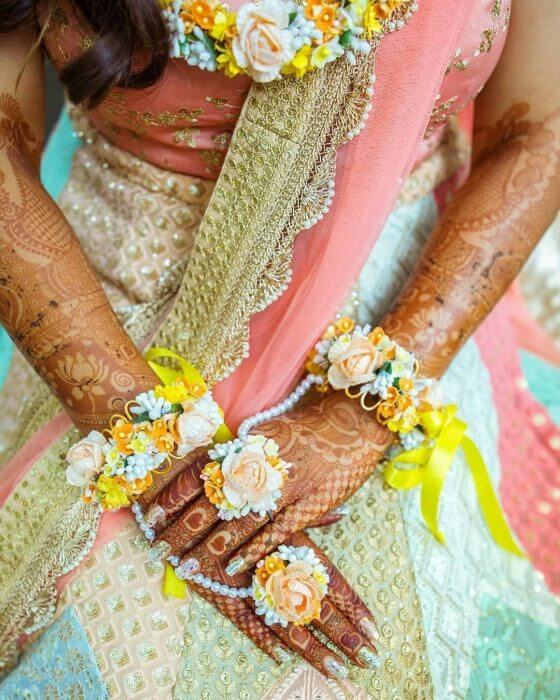 Floral jewellery for Mehendi: 
The Mehendi function is all about fun, dance, enjoyment, and lots of good wishes. For this day go for a full fresh florets jewellery sets which will include a neckpiece, maang tikka, pair of haathphool with a pair of matching earrings. The freshness of florals will let your natural beauty shine.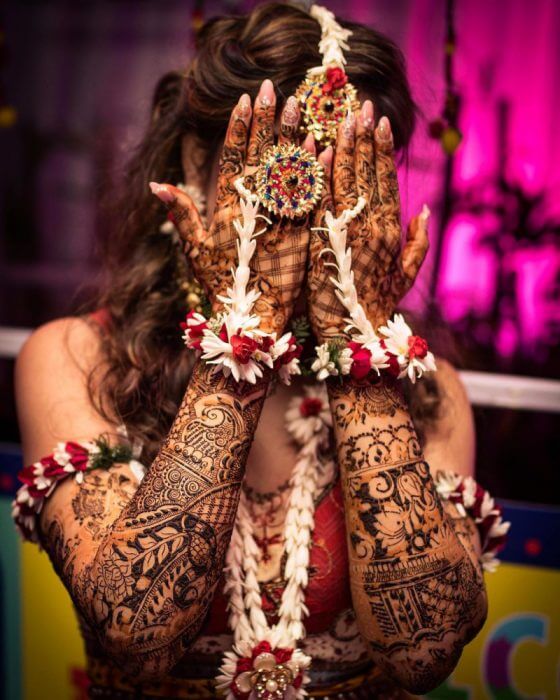 You can choose the floral combination which will complement your skin tone. For Mehendi function, go for vibrant colour florals such as yellow, red, white, or purple. You can ask your floral jewellery designers to include floral of a specific colour of your having any theme for the function. If you are planning to go for Mehendi floral jewellery, make sure you book your designer at least two weeks before the function. As it takes more time to craft custom pieces.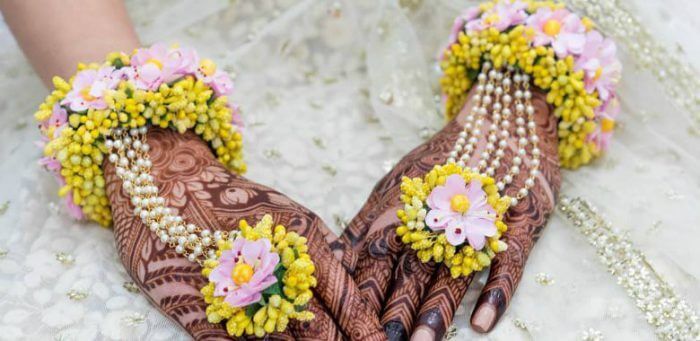 Jewellery for haldi should be delightful:
Floral jewelry you choose for the Haldi function should be delicate, light, and appealing. You can try the combination of red florals with haldi's yellow colour jewellery set. Go for a delicate floral necklace with haathphool and beautiful floral hair clutch.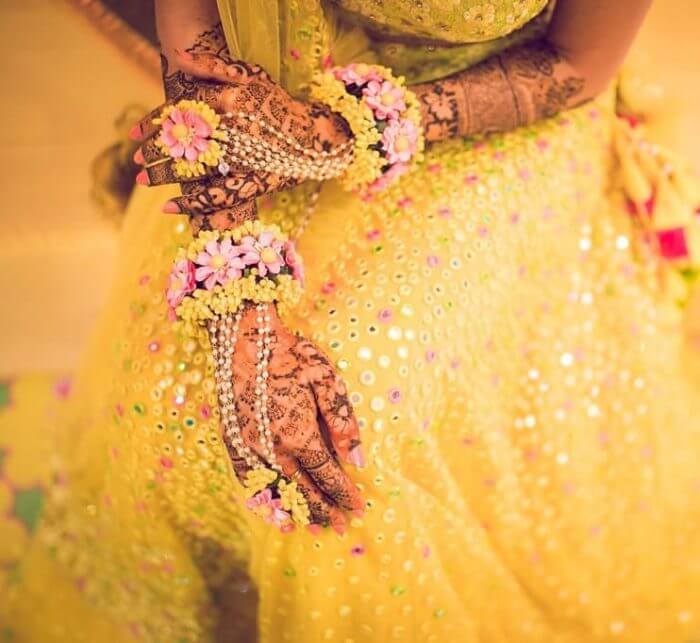 Keep the makeup simple and matching to the theme and enhance your beauty with pure simplicity. Make sure the jewellery you are designing is comfortable and easy to wear and remove without any hassle. And do ask your florist about the latest floral trends. Let the Mehendi music spice up the vibes, and it's time to indulge into these happening vibes and enjoy every single moment of your life's biggest function. And yes, don't forget to take selfies! Let your glowing beauty noticed by everybody.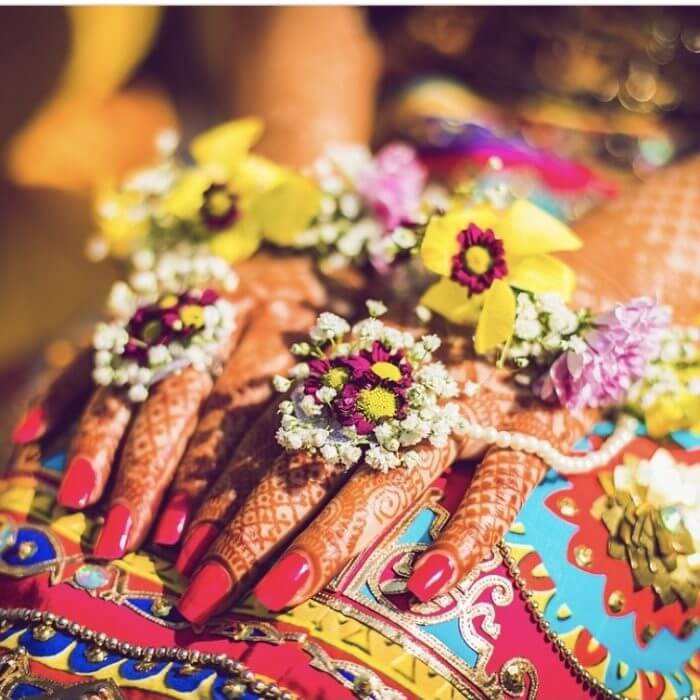 Bridal jewellery for wedding function:
The day has come finally, and it's time to glow like a fresh flower. Real flower jewellery for your wedding is true bliss. As per your wedding and dressing theme, you can design the wedding jewellery. If you are wearing vibrant colour attire like red, go for a lighter shade and if you are planning to wear light design apparel, you can for colours like red, orange or purple. Let the fresh florets enhance your beauty by their charm on the Big Day.
Go for a floral maangtika and Kamar bandh along with all the traditional jewelry pieces. If you are thinking about the footwear for this style, go for Indian style classic footwear, it will complement the whole dress up for good. Enhance your beauty with natural things and let the amazing flower arrangement take the vibes of the wedding to a whole new level.
Glam up on your reception:
The concept of natural jewelry is not just limited until the wedding. It can simply glam up the entire look with your reception outfit. For this function, you can go for some stylish and modern style design which will steal everybody's attention. You can go for colours like white and purple for your evening function.
White lilies, roses, and luxurious orchids will complement your entire attire for the good. Don't hold yourself back in experimenting with your looks. Go for Indo-Western style attire with mesmerizing flower decoration around everywhere complementing your style for the evening.
Going out for post-wedding lunch?
You must have planned to go out with your loved ones and have some quality time what's better than a subtle look and comfortable style for your post-wedding lunch party with your family. Go for a light shade or pastel shade necklace to complement your lunch attire and enhance your beauty in an instant.
Go for floral style earrings studded with white pearl to compliment your necklace and your beautiful western-style attire. Wear colours like white, blue, pastel pink which will soothe your eyes and give you ultimate comfort. It's time to chill and enjoy the good times.
Beach Vacation? Florals can help-
Planning to visit an exotic honeymoon location? Florals are your perfect companion for your every mood. Whether it's your beach swag or stunning photography mood, flowers are always there to enhance your beauty with a natural touch. You will easily find a local florist who offers a wide range of blossom pieces on your exotic beach location. Don't forget your cute hat and classy sunglasses for the beach photoshoot.
So, how you are planning to use these amazing florets to glam up your beauty and make yourself a showstopper. For every wedding function, you have something different to try and look classy. Go for trending designs which will complement you gratefully. Contact your nearest floral jewellery designer and plan everything in advance. Make your wedding special using these simple tips. Go ahead and plan your complete attire now.