Top 10 unique wedding mandap decoration ideas for 2019
This entry was posted on September 18, 2019 by Blooms Only.
Our Indian wedding is all about mesmerising decoration, beautiful flowers, Mehendi, Sangeet and our loved ones. And an inevitable part of your wedding is the gorgeous mandap decor. Not a single wedding is complete without a delightful and appealing mandap decoration.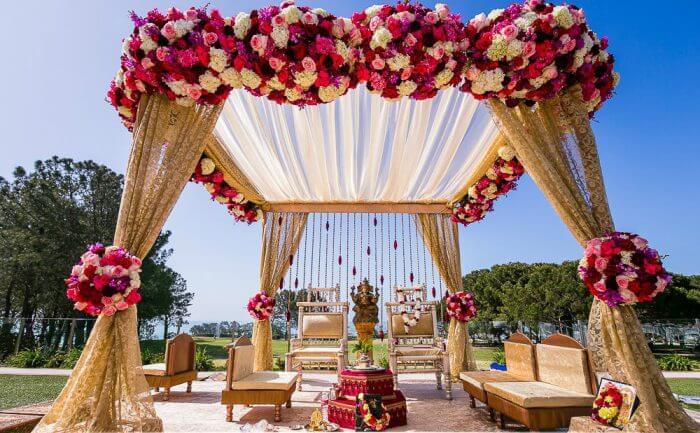 If you are also thinking about what should our mandap be looking like? then hold on. In this article, we will guide you through top 10 unique wedding mandap decoration ideas which are too beautiful to resist. Excited about wedding planning? let's get started.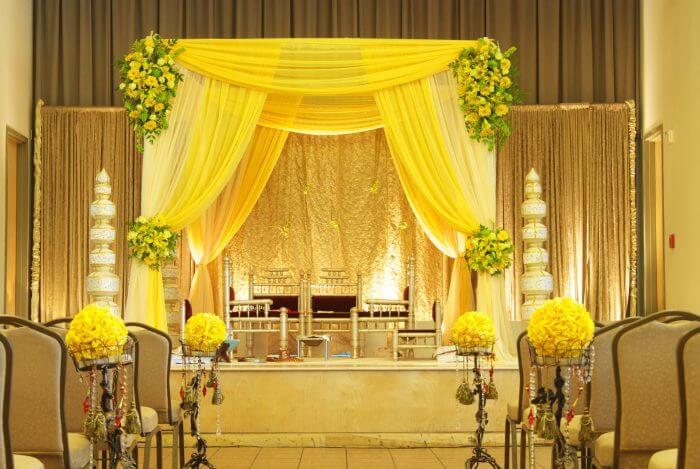 Top 10 Tending Mandap Decor Designs of 2019 You Must Check:
Pastel pink drape and flower decoration dome
Pastel pink is one of the most appealing colours for wedding decor. You can go for a dome shape mandap decorated with pastel pink drapes along with fresh flowers like calla lily, roses and white lilies. Such decoration will give the entire wedding a royal look with a pleasing to eyes design.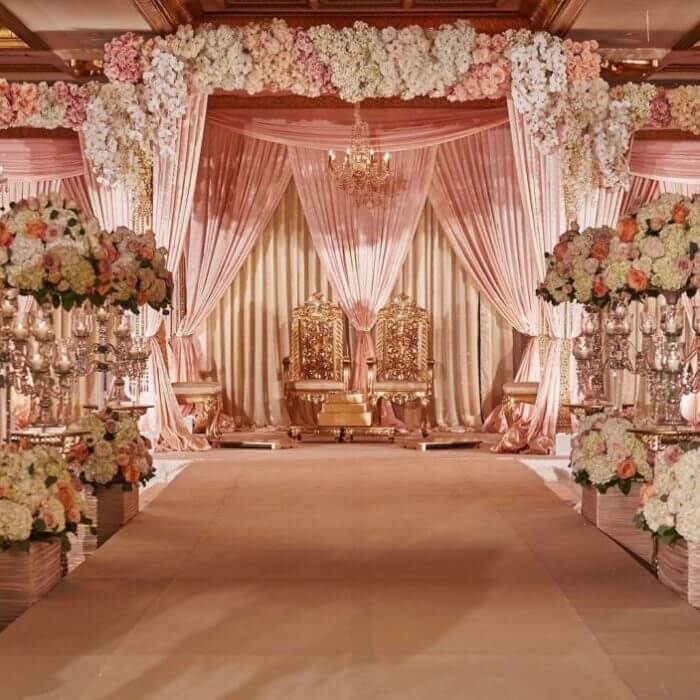 Along with this, you can compliment the entire decor with a flower chandelier at the centre of the mandap. A beautiful glass and floral chandelier on the top will steal everybody's attention for sure. Cover the pillars with drapes and blossoms to make it more beautiful.
Suspended Floral frills
Suspended and low hanging floral frills looks amazing for big day mandap decoration. Even a simple mandap can flourish using this easy decoration tip. Choose bright colours for such design and use pleasing LED lights to wrap the ropes around. Such decorations are trending in 2019 and you must give it a try.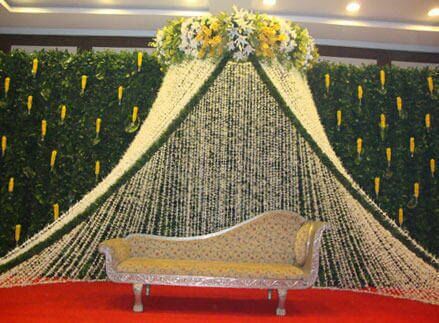 Even artificial floral frills look attractive in mandap decoration. Whatever the wedding venue is, this kind of design is easy to make and quite affordable too. If you are looking for something new which can be done easily, this setup is for you.
Go Natural and Go Green
If you are planning for outdoor weddings, go for a lush green decor theme. This is one of the most popular wedding themes of 2019 which many people are having their heart on. Go for a full blossom decorated mandap surrounded by a lush green backdrop. The ultimate vibes of nature are just enough to make everyone joyful.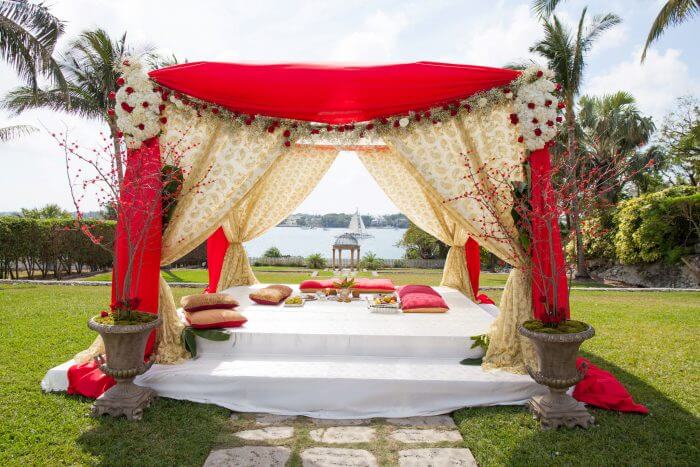 For decoration, choose colourful floral frills and lamps. You can set up a luxurious tent-themed mandap in the middest of lush greenery surrounded by carpet and big scented candles for taking the entire decor to the whole new level.
Sky of blossoms Mandap
Have you ever imagined taking your Shadi Fere under the clear sky and a web of beautifully decorated wheel type dome from which the sky is witnessing your purest relation of love? Open mandaps are quite a popular option to look at. These are basically a dome structured prepared using bamboo shoots and later covered with vibrant colour florals like dark purple, white or red.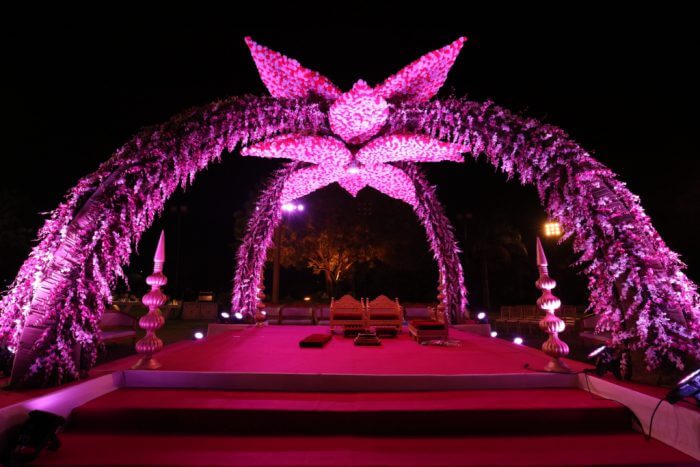 Green blossom melange with fairy tale lighting
An adorable melange of lush green blossoms along with white florets and beautiful lighting is just perfect to re-create a scene of a fairy tale. If the Shadi Fere is going to be happening at night, this is the best decor you can have in 2019. As it feels so natural, no one will get bored of watching and admiring it.
Beach wedding Mandap
Planning for a beachside wedding? What's better than an open Shadi Mandap decorated with exotic florets like orchids, lilies, green leaf trails. For the beach wedding, keep the wedding mandap design minimalistic. Let nature's beauty admire your amazing wedding bouquets, theme and elegant decor idea.
Also, keep the dress code for your beach wedding matching the theme. For the bride to be, go for fresh floret tiara, blossom bracelets and elegant flower earrings. All these accessories will give you an elegant look like pure bliss and compliment the entire theme.
Mandap indulged in the colour of pure love
These type of decor are evergreen and are always in demand. Get the wedding destination covered with red romantic roses. This single colour spangle will play wonders and everybody is going to love it, we all love roses, right? Right from the walking passage to mandap to stage decoration, use red roses along with white roses or lilies to make it more appealing.
Checkout such themes and thanks us later. This type of wedding flower decoration is easy to do and does not require great care as they can stay fresh for a longer period of time.
Golden Bells and Kaleeras hanging on top
This type of decors are loved by everyone and they never go out of trend. If your wedding is based on a royal theme, this decor can play wonders. Decorate mandap with red drapes, fresh florets and beautiful golden bells and Kaleeras hanging on the top to give an unforgettable feeling of pure love and commitment.
This combination os golden bells and Kaleeras is as good is as you and your loved one. Surround the mandap with some small and eye-soothing sky shoot crackers. The vibes created by the complete combination of all these things is worth experiencing. You can also use the same colour LED lights to make it more magnificent.
We can't forget the Floral Vedi decorations
If you are looking for something simple, beautiful and minimalistic, floral vedi mandap is the perfect choice you can have in the year 2019. This is like a hollow dome-like structure entirely made up of natural materials including florals, bushes and leaves. This is something new which you should definitely have a look.
They are simple yet elegant addition to your wedding. Compliment this setup with fresh wedding flowers garlands and fresh petals. This is a kind of raw design style setup which stands apart from the other designs available in the market.
Classic White Drape decor with multi-colour blossoms
One of the most loved mandap decoration is a classic white drape mandap surrounded by vibrant and fresh bunches of blossoms. This looks elegant and goes well with every wedding theme. White drapes arranged in a circular manner and illuminated from the bottom makes it an absolute show-stopper.
If you are looking for a more colourful option, go for pastel pink drapes or light lavender shade drapes for the mandap along with same colour floor lighting.
These were the top 10 unique wedding mandap decoration ideas for 2019 you can go for without thinking twice. Check every design online and get it customized as per your wedding theme. Let your wedding day be memorable to all with these adorable mandap designs. Visit your nearest wedding decorator now and check out trending mandap designs. Go for a fancy royal theme or go beach theme minimalistic design, you have got a lot of choices now.