What are Some Current Trends in Wedding Decorations?
This entry was posted on November 23, 2019 by Blooms Only.
Our Indian culture is full of vibrant textures; whether it's our bright festivals or our fanciful wedding ceremony, it's all so lively. We love bling in everything we celebrate and that's what fun is all about, right?
And when it comes to Indian wedding decoration, right from bridal party to the reception, we seek the most opulent and latest design for our big day. For you, we have specially selected some of the finest and latest wedding decoration trends which are too stunning and will make your wedding memorable. Let's check them out:
Beautiful current trends in wedding decorations of 2019:
Colour coordinated wedding decor:
Colour coordinated decor never go out of trend and looks classy. If you are looking for something minimalistic which reflects the fine taste of yours in colours and modern decor, this is for you. Go for a combination of an ivory colour theme with a touch of gold or something punchy combination of red and white. Ask your wedding planner to design the complete theme around it.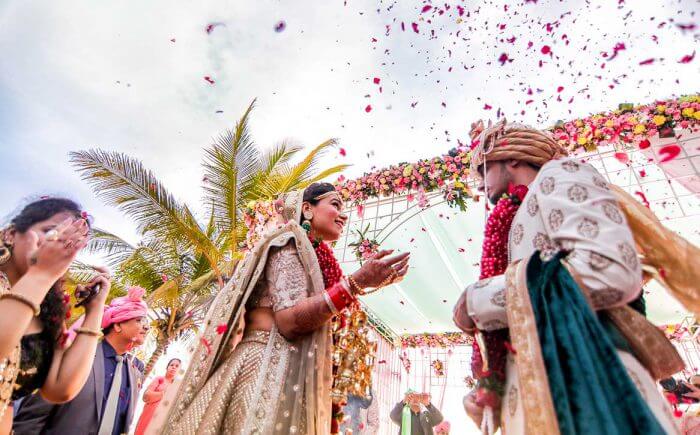 Let this same colour coordinated theme glam up the party decorations also. Right from multi-hued themed florals to complimenting table runners, and gorgeous backdrop decoration for the stage, this decor will never disappoint you.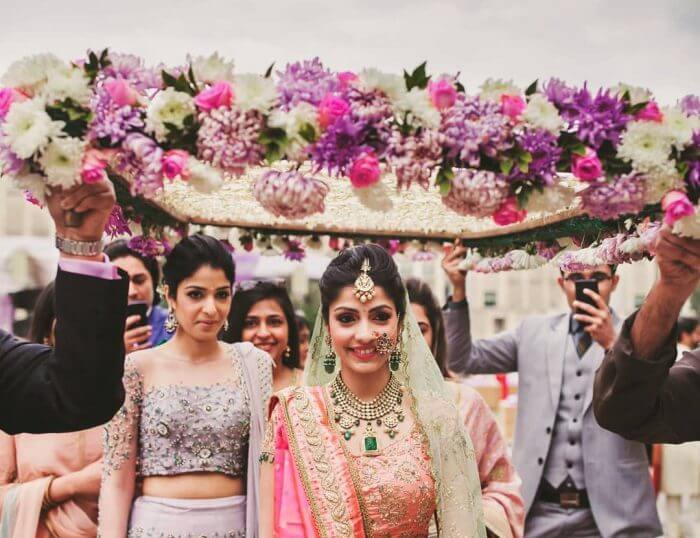 An explosion of colours for your big day:
Punchy, full of energy and selfiegenic — this is what this 2019 wedding trend is all about. If you are seeking something full of vibrant colours, this is the best decor to have. Choose 3 to 4 vibrant shades and let your wedding flower decoration service design the decor using them.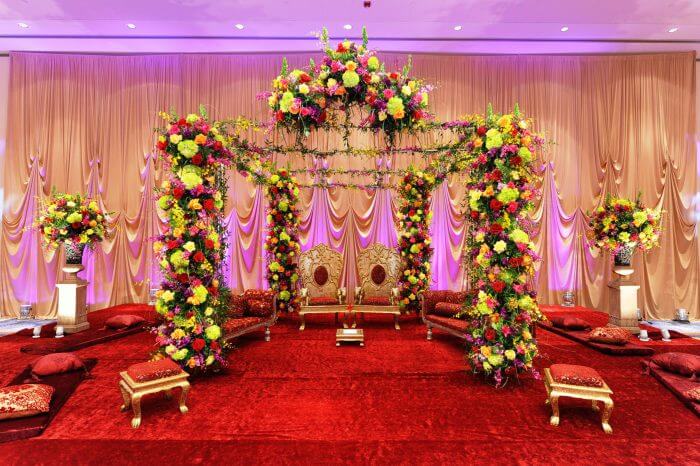 Let fancy pom poms, shiny drapes and giant floral frills fill your big day with tons of joy and positive vibes. For this type of wedding decoration, choose florals like red roses, purple orchids, yellow tulips and so on. Stick to 3-4 colours and let the wedding ceremony decoration shine just like you.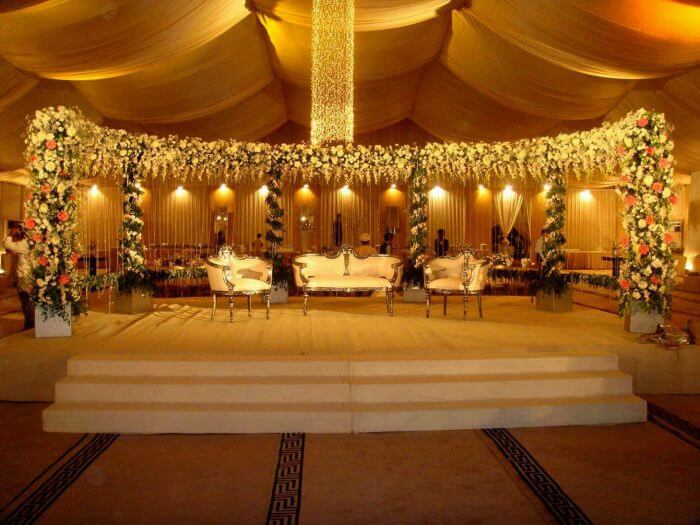 Ask the flower decorator to add some artificial flowers also to decorate the backdrop of the stage as they look amazing when paired with real florals.
Add the magic of lights to beautiful flower decor:
Weddings in India are incomplete without the magic of lights. This is one of the best wedding trends you can choose. Let the roof look like a sky full of stars or make it like a world full of illuminating candles around you. Go for low hanging single-colour led lanterns or drizzle the ceiling with long trails of fairy lights complimenting to every wedding moment.
Ask your decoration services for some modern lighting options for the main marriage function and the reception. You can also go for cage-lantern ceiling decor which looks nice with eye-pleasing led lights in it.
Botanical centrepieces for the 'lush' effect:
One of the most loved and trending wedding ideas is lush green botanical centrepieces at the wedding venue. Wedding flower decorators can create some of the coolest floral centrepieces which are not less than a sweet treat.
Whether its bride and groom miniature statue decorated with mini wedding flower backdrop at the entrance or the couple's initials created using lush green and other florals, these centrepieces are a surprise for your wedding selfieholic group.
You can visit any of your favourite flower decoration services and get these centrepieces designed. This trend does not only look beautiful but it's an ideal eco-friendly decor that adds more charm to your wedding ceremony decorations.
Metallic shades are versatile and luxuriant:
If you are planning for an indoor wedding function, this could be the best choice for you. A beautiful combination of carnations, roses, and lilies complementing the versatile metallic decor. Rose gold or classic copper colour theme for the wedding reception look luxuriant.
If the wedding venue is in Pune, you will find a lot of online wedding florists that offer these types of amazing venue decoration along with mesmerising flower decoration in Pune.
Charming car decoration:
Car decoration is one of the most important aspects of any wedding and it has to be very special. Let the car decoration complement the entire wedding theme. Use the same colour theme for decorating the car like the wedding venue. This will complete the entire wedding decor with perfection. Let the car decorator do the magic with florals make the car as beautiful as wedding function.
So, which one is your favourite wedding decoration trend among these? Make every bit of your big day joyful and memorable with astonishing floral decoration. Make sure you decide the theme in advance so that the decorators can have enough time to craft your idea with perfection. And if you are looking for the best wedding decoration in Pune, just contact Blooms Only for beautiful floral wedding decor.